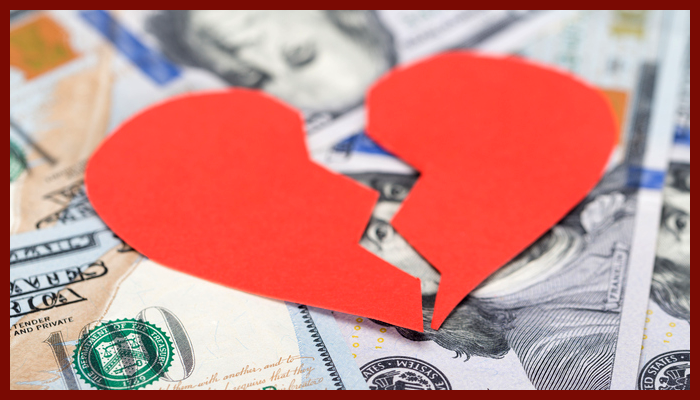 Sad (and Expensive) Love Stories
Today, I'll be discussing a financial scam that can be perpetrated by either a man or woman. In my opinion, people who commit this crime (and it is a crime) are some of the "lowest of the low." Con artists troll dating websites, bars, and countless other places (even grief counseling groups!) in search of the lonely and emotionally vulnerable. Maybe you've seen it happen, or felt helpless as a relative, or good friend, has had his/her money stolen.
"Maxie," a widow, signed up for an online dating service to find a companion. There, she met "Franklin," a seemingly well-to-do retiree, who was in the midst of a messy divorce. When his divorce was final, Franklin told Maxie he wanted to travel the U.S. with her in retirement. A dream come true, right? He convinced Maxie to use her savings to buy a new, and very expensive, recreational vehicle (RV). The "home on wheels" was huge, comfortable and had all the latest features and conveniences. Everything was fine for the first few weeks after the purchase, but, soon, Franklin's affection for Maxie waned. They "broke up," and not so amicably. Maxie made several attempts to get Franklin to pay back the money she had invested in the RV, but, as you may have already guessed . . . Franklin had the vehicle titled only in his name.
"Annie" met "Mel" in a café. Annie fell hard for the younger man who said he was an "actor." Unfortunately, Mel had no money and couldn't hold a job. So, Annie chose to support him, financially. Though Mel professed his "love" to Annie, her elderly father and grown daughter expressed their displeasure and concern over what appeared to be a one-sided affair. The more they complained, the more Annie pushed her family away in lieu of her relationship with Mel. The charade went on for a couple years before Mel finally moved on. What did he leave behind? Heartbreak and a large dent in Annie's retirement savings.
Stories like these are not uncommon. Admittedly, it's hard to make the right decision when you are engulfed in a whirlwind of emotion. "Love" can make a person blind to even the most obvious of deceptions. Scammers, however, know how to manipulate their victims by fulfilling this very basic human need.
I write this column as a warning. Scammers often target older individuals because they know they hold the most wealth. Approach potential relationships with great caution and keep your wits about you. Don't rush into anything, especially when asked to lend financial assistance. Listen to family and friends, without being defensive. Discuss any and all major financial moves with your adviser. Please! If you're having second thoughts about someone's true intentions, remove yourself from the situation for a few weeks to gain some perspective. Con artists can, and do, live in our local communities. They will continue to lure the lonely. Don't lose your money to them. Don't become another victim.
Have a financial question you'd like answered here? Email: Questions@PlanStronger.com
---